INVESTEE PROFILE – MEDWISH

(a Cleveland-based nonprofit committed to the recovery, repurposing, and redistribution of donated medical supplies and equipment that healthcare providers routinely discard)   
MedWish is flourishing in its second year as one of Cleveland SVP's investees. Lead Partner Dick Cahoon worked steadfastly with MedWish's former Executive Director, Tish Dahlby, who recently left MedWish after eight years at the helm. Dick is now establishing a strong relationship with MedWish's new ED, Josh Kravitz, who formerly worked as COO for Medshare, an Atlanta-based medical supply redistribution organization which is even larger than MedWish.
Josh's history of serving those in need, both locally and abroad, will serve MedWish well. According to Dick, Josh's energy and "knowledge of operations will help MedWish keep the momentum going with their march to operational excellence. His understanding of the needs for organizational development will assist MedWish in achieving their strategic vision."  Click here to read more about Josh.
Dick Cahoon brings his own expertise and energy to the mix. Dick has built a number of businesses, assisted with leadership development, mentored new associates, and served on the boards of several nonprofits. He notes that his engagement with MedWish has caused him "to be even more involved in the structure of nonprofits. Clearly, there are practices in the private sector that we have been able to leverage with excellent results. Conversely, the truly collaborative nature of NGOs is what the business world needs more of to become more efficient." Dick's impact on MedWish has been profound. According to MedWish's Development Director Matt Fieldman, "Dick has been our go-to guy for all sorts of projects, big and small." He added that Dick's "been providing the kinds of personal and professional guidance we've been looking for, and his perspective has been invaluable in many important decisions." Operations Director Andres Perez-Chameco pointed out that as MedWish geared up to solicit RFPs from contractors for an inventory management system, "Dick took a lot of disconnected ideas and goals and turned them into one cohesive document that we could show potential vendors."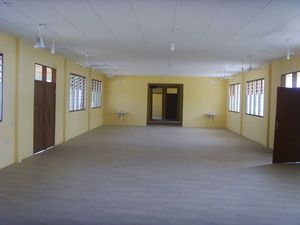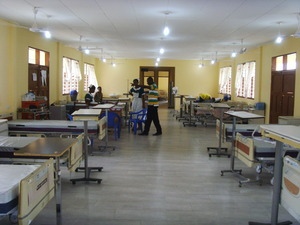 The above pictures show

"a before and after that we just received from a hospital in Ghana. The support of CSVP, and your recent volunteer day, helped make this happen!"
- Matt Fieldman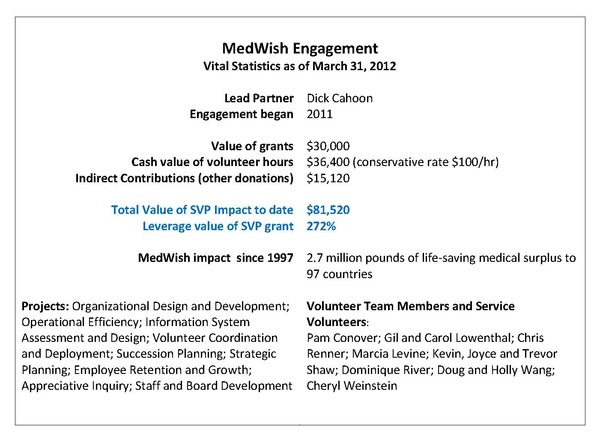 SVP HIGHLIGHTS:
2011 Results and Accomplishments:
·         SVP's grant expedited inventory flow and warehouse improvements
·         Organizational Development: increased level of satisfaction in areas of communication and appreciation; all stakeholders share vision of MedWish's mission and plans for future growth
·         With Dick Cahoon's help, changes in warehouse floor plan and procedure resulted in faster sort time, quicker ability to redistribute aid, less trash, and higher level of satisfaction from the end recipient. Specifically, MedWish
-          created three shipping bays for building container shipments to expedite loading and reduce chance of losing product or equipment
-          created a "triage" for donated supplies to expedite sort time; turn-around time was vastly increased
-          decided to discontinue the recovery of expired medical supplies
·         A new Volunteer Manager was hired; SVP's initial assessment of volunteer management was postponed until 2013. Thanks to partners Pam Conover and Chris Renner for their initial help with this project.
2012 Goals and Proposed Targets: 
·         Organizational Design and Development: plan to develop leadership capabilities and succession planning; plan to improve employee retention and growth
·         Warehouse Management System Installation: plan to create a world class system that combines communication with efficiency and cost-effectiveness; plan to install management software and achieve 100% functionality
·         Executive Director: successfully hired a new ED and ensured a smooth transition with staff and board    
OTHER MEDWISH HIGHLIGHTS:
Tech Bonanza: Thanks to 2,677 votes from volunteers and supporters around the world, MedWish won $100,000 in new technology in the national Toshiba "Helping the Helpers" contest. The new computers and printers will help MedWish save more lives in even more countries.
International Medical Brigade: MedWish is sponsoring a trip to El Salvador from August 12-17, 2012 as part of their 2012 MedWish International Medical Brigade. They are recruiting medical professionals, seasoned brigadiers, and fresh faces. Click here to apply for a spot.
Local and Global Impact: MedWish's impact is both local and global. Locally, MedWish provides jobs and volunteer opportunities, and reduces the area's carbon footprint. In 2011, MedWish saved 534,039 pounds of medical supplies from disposal, keeping this valuable solid waste out of local landfills. Globally, MedWish improves the quality of medical care available to the underserved. Since 1993, Medwish has provided 2.7 million pounds of life-saving medical surplus to 97 countries throughout the world.
Band Aid Bash 2012: See details here!